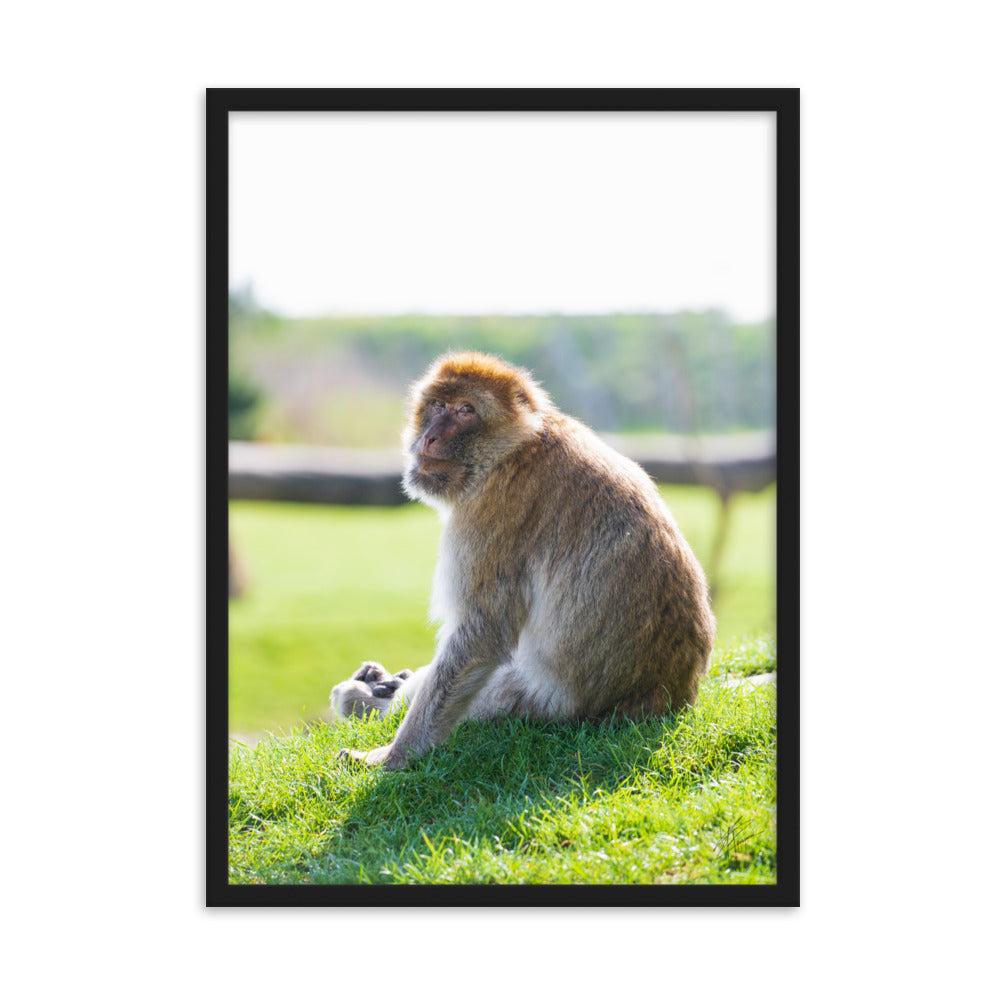 In the eyes of a macaque - Framed poster
Framed Photograph Poster "In the Eyes of a Macaque"

Poster Description

Capture the essence of the wilderness with our beautiful framed poster entitled "In the Eyes of a Macaque". This stunning wildlife photograph captures a Barbary macaque sitting on the grass, enjoying the sunshine and casting a calm yet curious gaze towards the camera lens.

Dominant Colors

The poster features a soothing color palette, showcasing the nuances of nature with tones of green for the grass and foliage, subtle browns for the macaque's coat, and pops of gold to capture the sunlight.

Style of Art

The style of this wildlife photography is both realistic and artistic, capturing the macaque in a moment of tranquility and interaction with the natural environment around it.

Dimensions of Poster

We offer this framed poster in two sizes to adapt to your space: 30x40 cm for an elegant and discreet presentation, or an XXL format of 61x91 cm for a more imposing and impressive decoration.

Product Details

Paper weight: 189 gsm, ensuring museum quality printing and exceptional durability.
Frame: Choose from a black and white semi-hard alder frame for a modern touch, or a solid oak frame for a warm, natural feel.
Front Protection: Each poster is equipped with a PVC front protection to preserve the beauty of the image while providing a clear and sharp view.
Hanging Hardware Included: Hanging your framed poster will be a snap with the included hanging hardware, allowing you to easily showcase it.

Add Character to Your Interior

Add an artistic touch and a wonderful accent to your home with these museum quality framed posters printed on thick, durable matte paper. They will bring a unique and enchanting ambience to any environment, be it the living room, bedroom or office.
Delivery 4-8 days in secure packaging. Each poster purchase contributes to the planting of 10 trees, thanks to your support.
Each poster we offer is designed in an original and exclusive way by our talented artists. You won't find them on any other site.
We are committed to providing you with the highest quality posters , designed with passion and dedication. Every poster you buy from us is created to arouse admiration and satisfaction.
Click to discover our presentation video. Youtube.
Bring style to your walls with my unique
wall posters