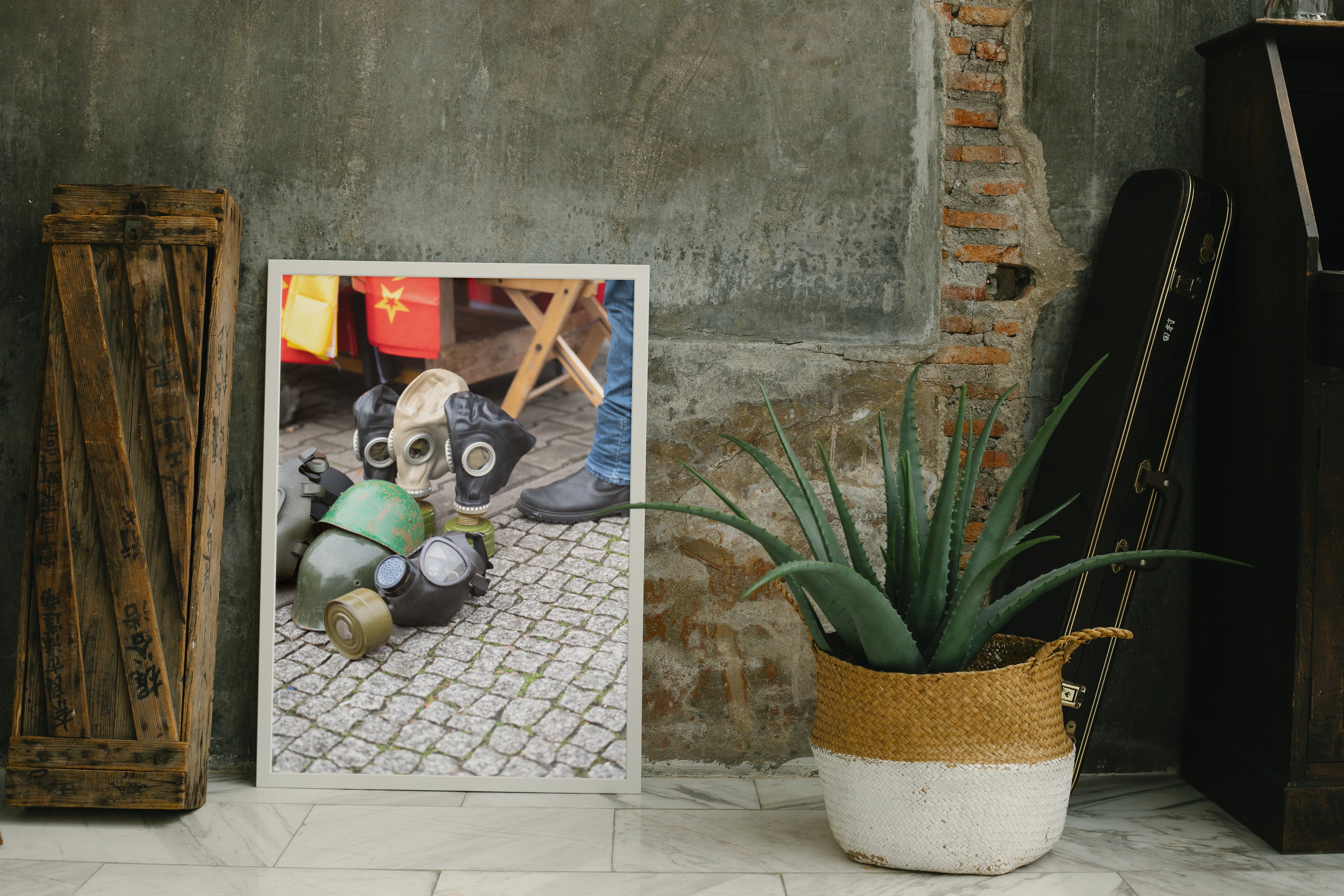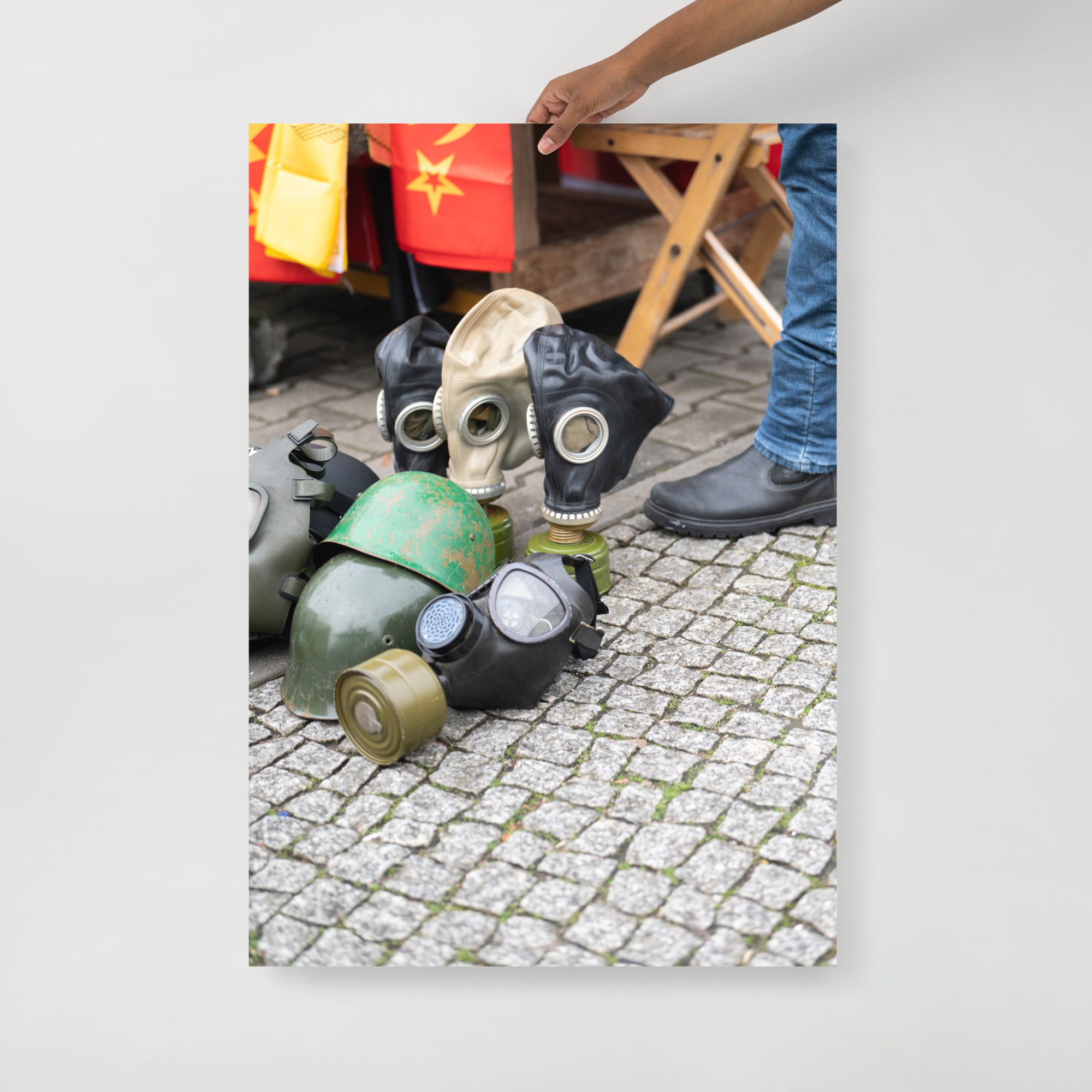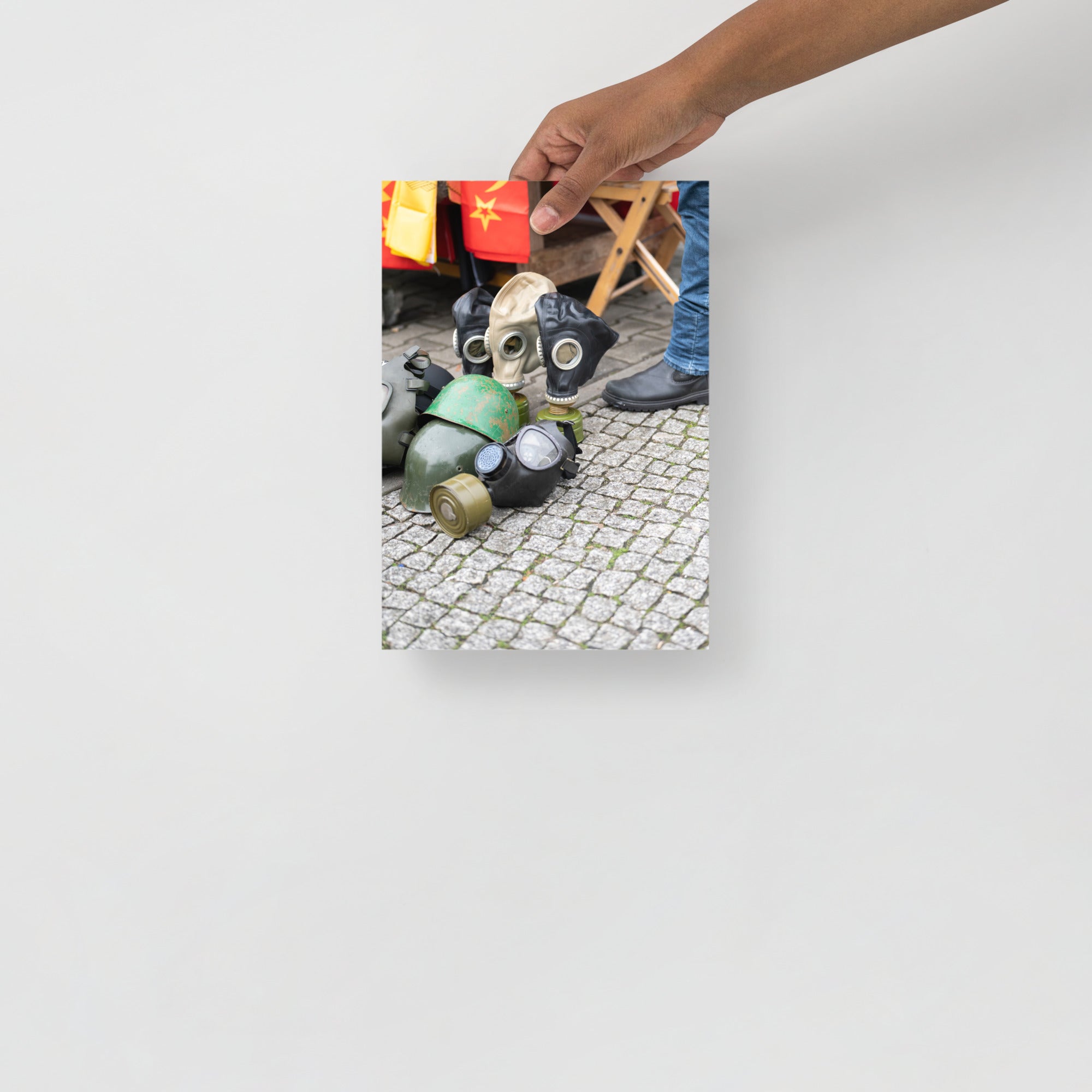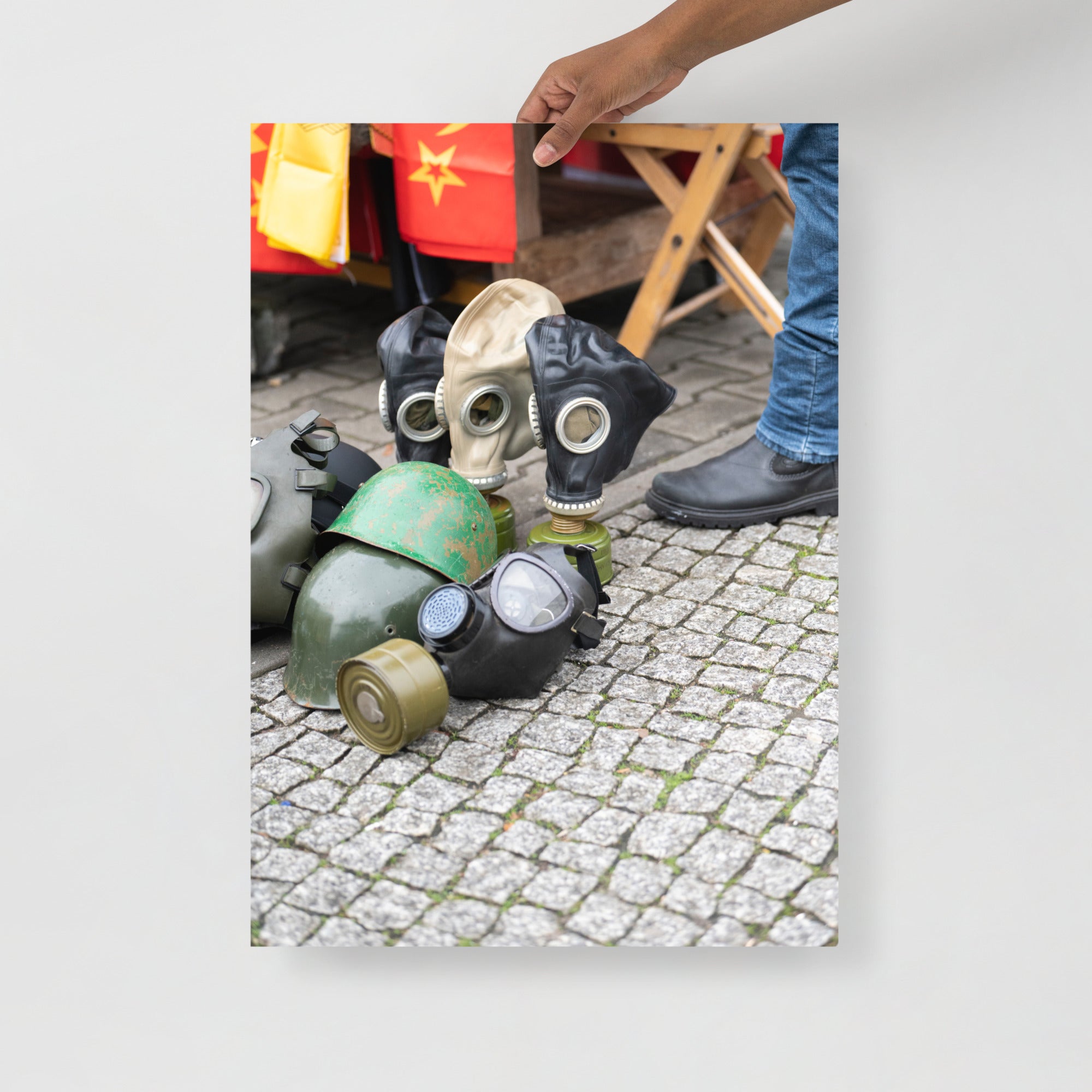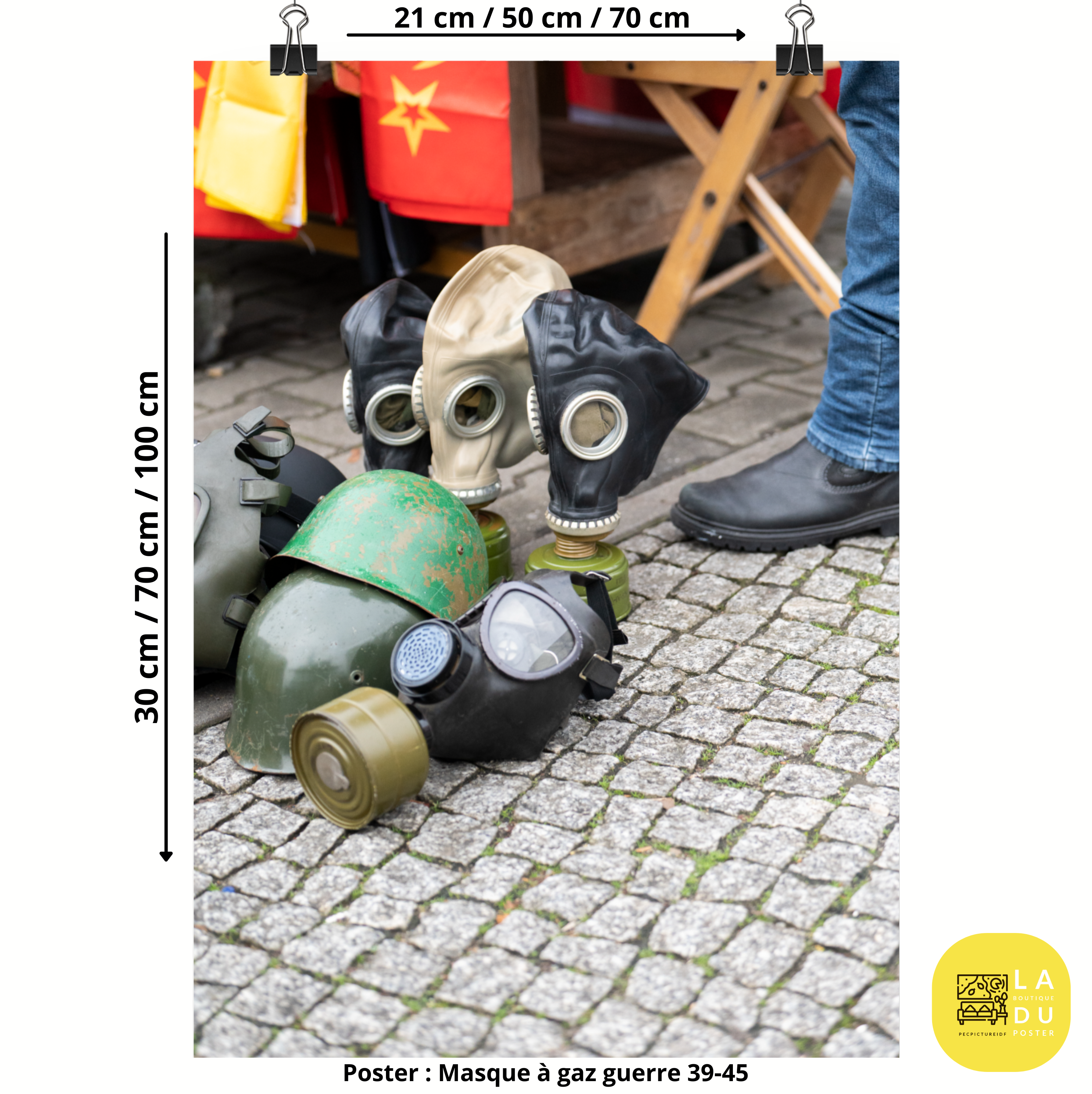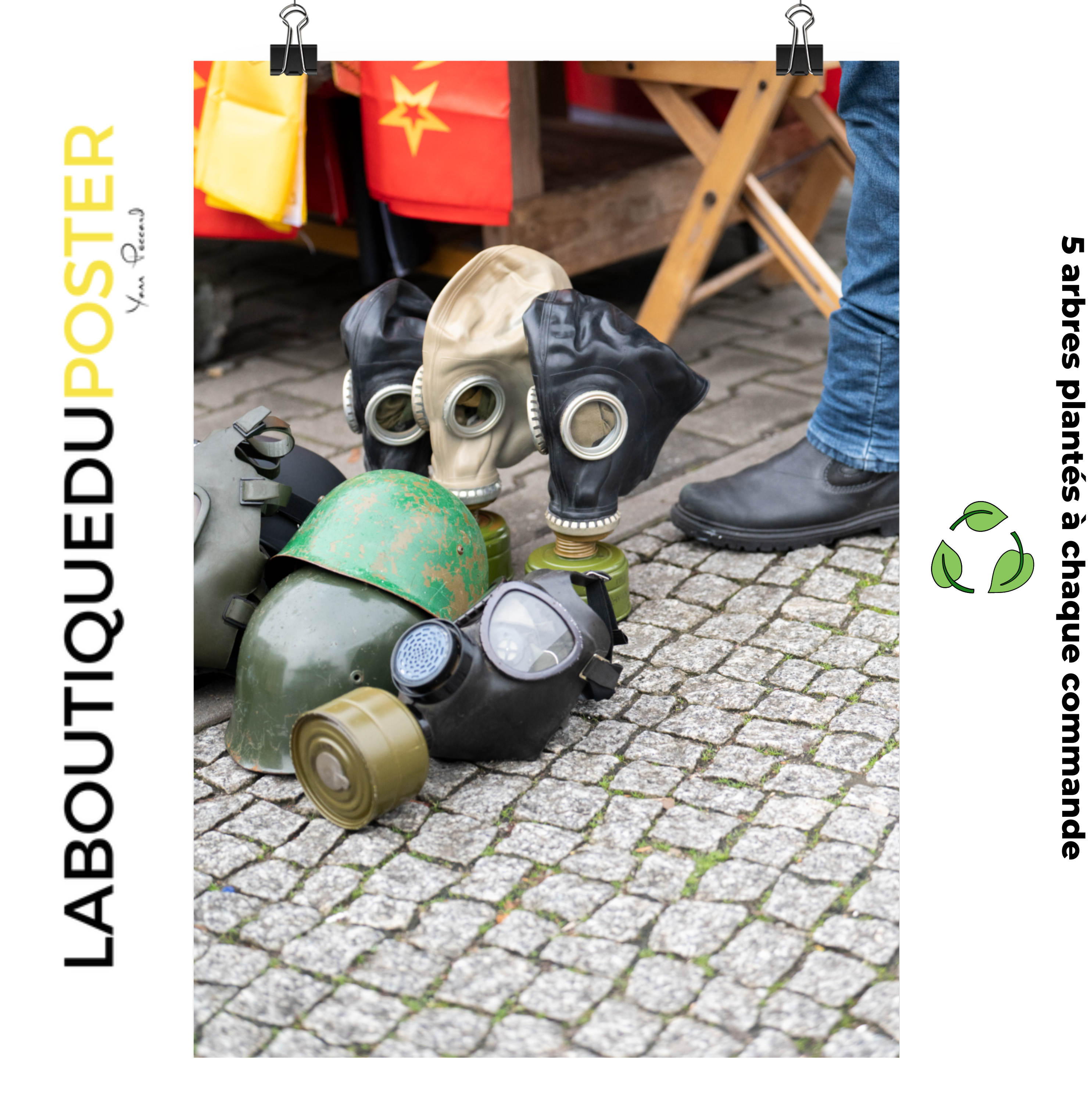 39/45 War Gas Mask - Poster
Wall poster: Gas mask war 39-45
• 5 Trees planted with each order
• Museum quality poster
• A French photographer who decorates your bedroom, living room.
• Print on demand
The Poster Shop Fr / PecPictureIdf

Gas Masks in World War II: A Comparative Price Analysis of Then and Now".

During World War II, gas masks were essential equipment for personal safety. Today we compare the prices of this equipment from yesterday to those of today, looking at the notable differences.

Gas masks of yesteryear were made with rudimentary materials, mostly rubber and fabric, while modern masks use more advanced materials such as silicone and sophisticated filters. This technological evolution is reflected in prices, with contemporary gas masks generally costing more than their vintage counterparts.

However, despite rising costs, the advent of mass production has made gas masks more accessible to the general public. Additionally, significant advances have been made in comfort and ergonomics, making modern masks more comfortable to wear for long periods of time.

This comparative analysis of gas mask prices past and present gives us insight into technological developments as well as the costs associated with personal safety. Find out how gas masks went from essential warfare equipment to a modern protective accessory.

Historical significance of gas masks

Gas masks played a crucial role during World War II. They were designed to protect civilians and military against chemical attack, which was a constant threat during the conflict. Gas masks were widely distributed in countries involved in the war, and their use was mandatory in many situations.

Evolutions in gas mask design and technology

Over the years, gas mask design and technology has evolved considerably. During World War II, masks were often bulky and uncomfortable to wear. The materials used were mostly rubber and fabric, providing basic gas protection. However, these masks were far from perfect, and many users complained of discomfort and difficulty breathing.

Today, modern gas masks are made from more advanced materials such as silicone. They are lighter, more compact and offer better protection against toxic gases. Additionally, the filters used in modern masks are more sophisticated and efficient, ensuring safer breathing.

Comparison of gas mask prices during WWII and today

Gas mask prices during World War II varied by country, model, and quality. In general, gas masks were relatively affordable for governments, as they were mass-produced to meet growing demand.

Today, prices for modern gas masks can vary widely depending on brand, features, and quality. High-quality gas masks, used by law enforcement and security professionals, can cost several hundred dollars. However, there are also more affordable masks aimed at the general public, offering basic protection at a more affordable price.

Factors influencing the price of gas masks

Several factors influence the price of gas masks. First of all, the quality of the materials used and the sophistication of the filters can vary the price. High-end gas masks, with more advanced filters and better durability, will generally cost more than basic models.

Additionally, production, marketing, and distribution costs play an important role in determining the final price of gas masks. Named brands and reputable manufacturers may charge higher prices due to their reputation and commitment to quality.

Availability of gas masks during World War II

During World War II, the availability of gas masks varied from country to country. Some countries, such as Germany and the UK, have managed to produce and distribute mass quantities of gas masks to their populations. However, in other countries the availability of gas masks was limited due to limited production capacity and logistical constraints.

Collecting and Preserving Gas Masks as Historical Artifacts

World War II gas masks have significant historical value. They bear witness to the impact of chemical warfare on society and the importance of personal protection during conflict. Many collectors are interested in gas masks from this era, viewing them as valuable artifacts to be preserved.

Famous gas mask makers during World War II

Several gas mask manufacturers played a vital role during World War II. Among the most famous are the German companies Draeger and Auer, as well as the British manufacturers Avon Rubber and Siebe Gorman. These companies provided high-quality gas masks to their respective countries and helped protect civilians and military personnel.

The impact of gas masks on civilian life during World War II

The widespread use of gas masks during World War II had a significant impact on civilian life. Civilians were required to wear gas masks in public spaces and during chemical attack training exercises. This has created a sense of fear and uncertainty among the population, but has also strengthened the resilience and preparedness of nations.

Conclusion: Understanding the Value of Gas Masks as Historical Artifacts

Comparative analysis of gas mask prices during World War II and today provides us with a unique perspective on the evolution of technology and the costs associated with personal safety. While modern gas masks are more expensive, they also offer improved functionality and comfort. World War II gas masks, on the other hand, are valuable artifacts that testify to the importance of protection during times of conflict.

By understanding the historical value of gas masks, we can preserve these precious items and continue to learn lessons from the past for a safer future.
Delivery 4-8 days in secure packaging. Each poster purchase contributes to the planting of 10 trees, thanks to your support.
Each poster we offer is designed in an original and exclusive way by our talented artists. You won't find them on any other site.
We are committed to providing you with the highest quality posters , designed with passion and dedication. Every poster you buy from us is created to arouse admiration and satisfaction.
Click to discover our presentation video. Youtube.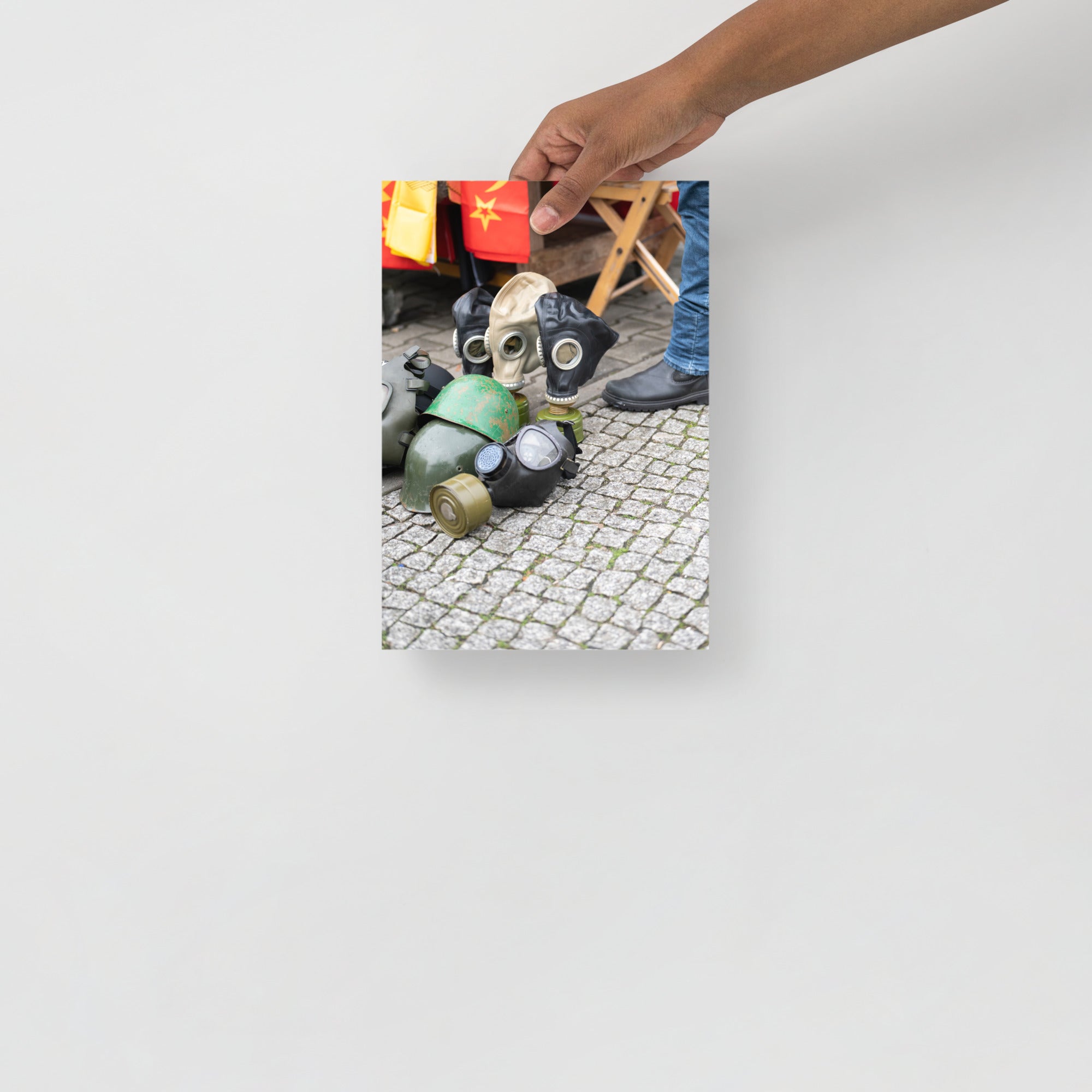 Bring style to your walls with my unique
wall posters