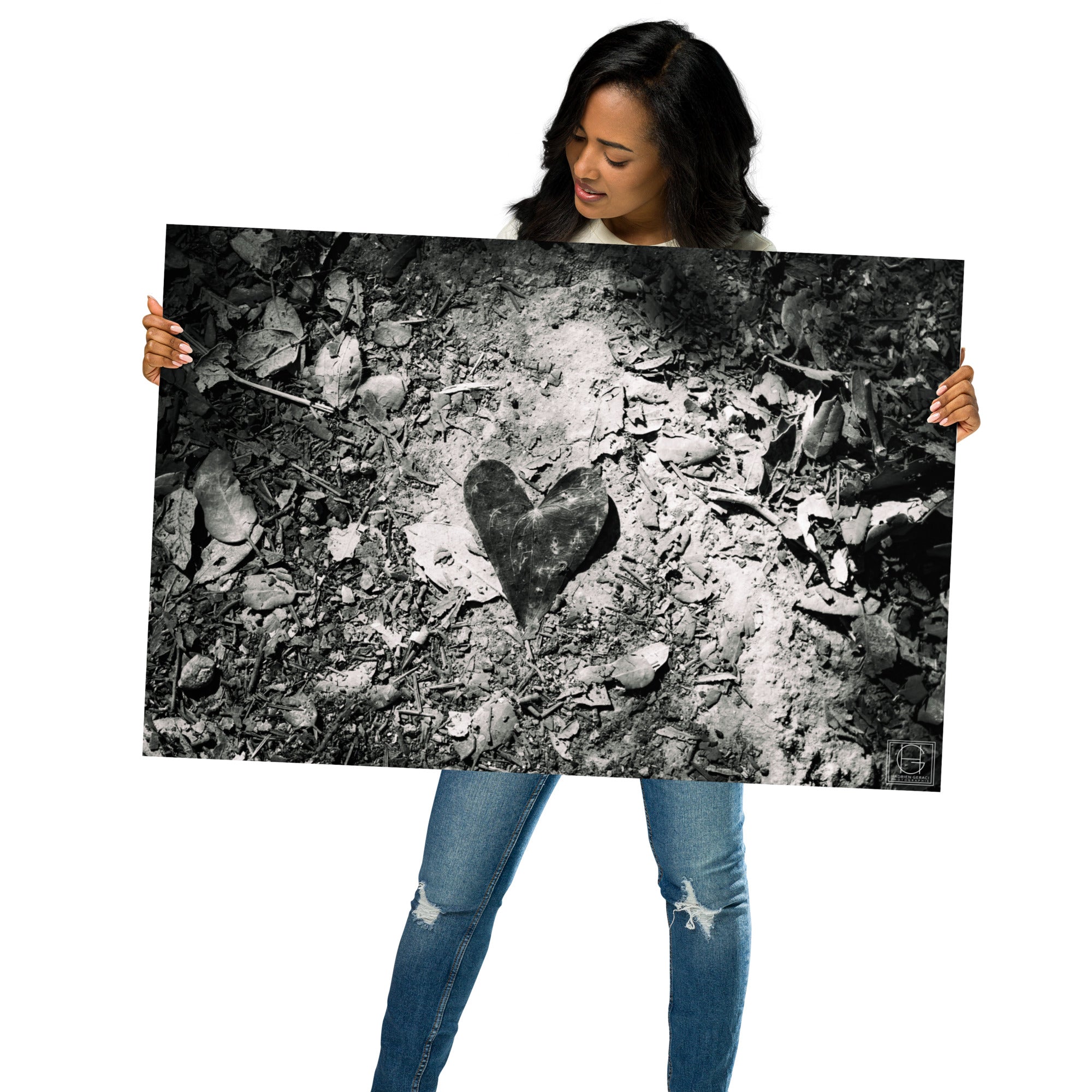 Au cœur de la forêt - Poster
Poster Photographique 'Au cœur de la forêt' par Hadrien Geraci

La Beauté Simple de la Nature

Au centre d'un sentier forestier, une feuille singulière en forme de cœur repose. Cette feuille, bien que simple et solitaire, est le sujet principal, soulignant l'idée que chaque élément de la nature, si petit soit-il, est doté de sa propre beauté et importance.

Composition et Détails

La photo minimaliste, agrémentée par les teintes vibrantes de la végétation, met en exergue la délicatesse de la feuille. La texture de l'image nous donne presque l'envie de toucher, de ressentir, captivant ainsi les sens et l'attention.

Une Invitation à la Réflexion

Cette photographie est un rappel poignant de la beauté omniprésente de notre environnement, incitant le spectateur à prendre un moment pour apprécier les détails, pour se connecter à la nature et reconnaître la beauté dans les petites choses.

Caractéristiques du Poster

Impressions muséales de qualité supérieure sur un papier mat robuste pour garantir la durabilité tout en préservant la vivacité et la clarté de chaque image.

Spécifications du Papier



Épaisseur: 10,3 mil


Poids: 189 g/m²


Opacité: 94%



Intégration dans Tout Espace

Ce format XXL de 61x91cm est parfait pour donner vie à n'importe quel espace, qu'il s'agisse d'un salon, d'une chambre ou d'un bureau.

Au cœur de la forêt

Cette photographie est un véritable hommage à la beauté naturelle et à la simplicité de la vie.

Une feuille en forme de coeur se trouve au sol, posée au milieu d'un chemin recouvert d'un tapis végétal.

La composition minimaliste de la photo met en valeur la délicatesse et la singularité de la feuille, tout en soulignant la richesse et la diversité de la végétation environnante. Les couleurs vibrantes et la texture tactile de la photo ajoutent une sensation de vie et d'énergie à l'image, créant une atmosphère poétique et inspirante. Cette photographie est une invitation à se connecter à la nature et à apprécier la beauté simple et omniprésente qui nous entoure. Elle nous rappelle également que même les choses les plus insignifiantes peuvent avoir une signification profonde et une beauté cachée, si l'on prend le temps de les observer avec attention.
Delivery 4-8 days in secure packaging. Each poster purchase contributes to the planting of 10 trees, thanks to your support.
Each poster we offer is designed in an original and exclusive way by our talented artists. You won't find them on any other site.
We are committed to providing you with the highest quality posters , designed with passion and dedication. Every poster you buy from us is created to arouse admiration and satisfaction.
Click to discover our presentation video. Youtube.
Bring style to your walls with my unique
wall posters