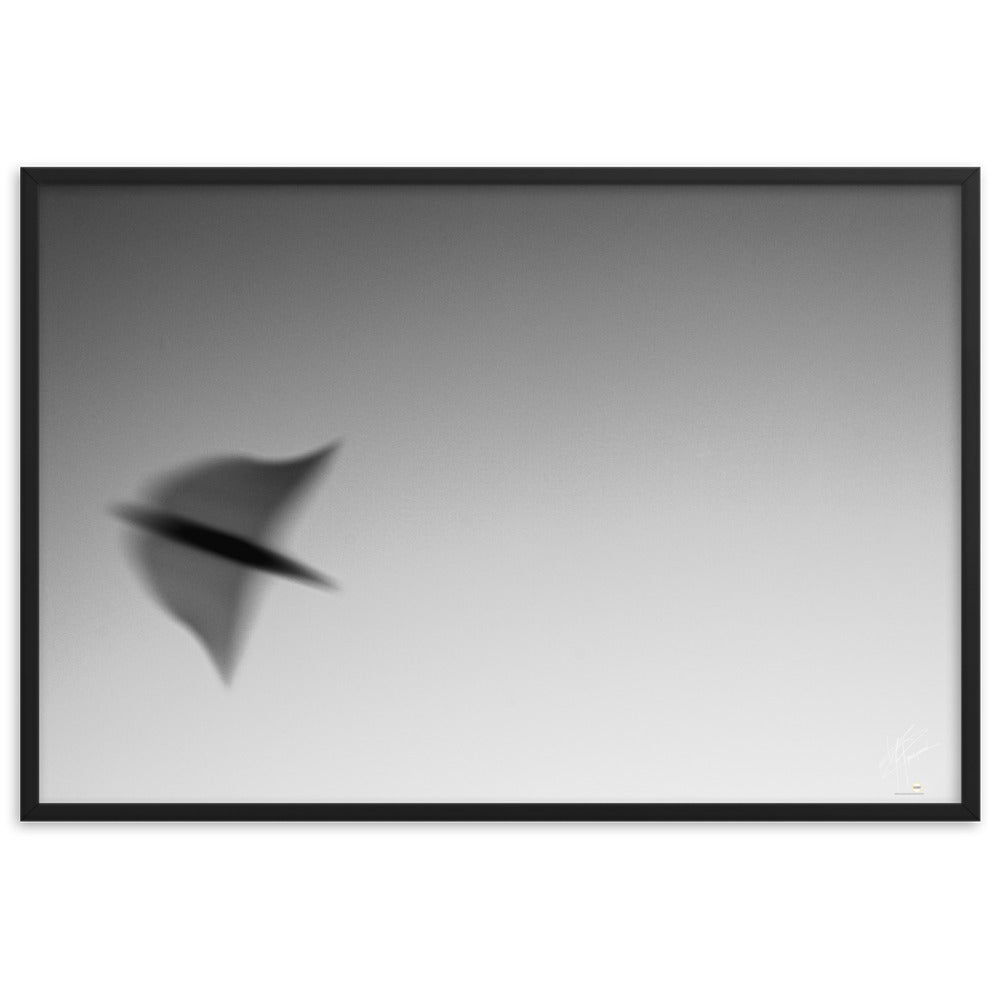 Garden Bird - Framed Poster
Black and White Birds Poster - Garden Birds Artistic Photography

Discover the timeless beauty of garden birds with our Garden Bird poster . This collection of artistic photographs captures the elegance and grace of these majestic creatures in a captivating black and white style.

Printed on premium quality paper, this poster offers faithful reproduction of detail and contrast, showcasing every feather and every expression. The shades of gray bring a touch of elegance and highlight the shape and texture of the birds, creating a work of art in its own right and a unique black and white poster .

Garden birds are regular visitors that add life and color to our surroundings. This poster celebrates their presence by capturing their unique charm in captivating images. Hang this poster in your living room, bedroom or office to create a soothing atmosphere and remind you of the beauty of nature.

Our Black and White Garden Bird poster comes with care in protective packaging, ready to be framed and displayed proudly in your home. Order now and enjoy fast delivery in 4-8 business days.

Discover the fascinating world of garden birds with our stunning poster.

Discover the fascinating world of garden birds with our stunning poster. Enter a universe filled with colors, melodious songs and flying wonders with our exceptional poster. Whether you are a fervent birdwatcher or simply a nature enthusiast, this poster will arouse your curiosity.

Immerse yourself in the world of gardens and observe birds in their natural habitat. Our poster gives you an overview of the different species of garden birds, from the robin to the tits and the sparrow. Accompanied by detailed descriptions, these illustrations will allow you to better know these adorable feathered creatures.

Whether you're planning to spruce up your garden to attract more birds, or just want to learn more about these beautiful winged companions, our poster is a must-have. Treat yourself to the pleasure of discovering the cozy and lively universe of our feathered friends thanks to this superb poster.

Get ready to be amazed by the spectacle of nature and invite garden birds to share your daily life with our superb poster.

The importance of garden birds in the ecosystem

Garden birds play a crucial role in the balance of the ecosystem. They help pollinate flowers, disperse seeds, and control pest insect populations. Their presence in your garden helps maintain a natural balance and promotes biodiversity.

By attracting garden birds, you create an environment conducive to their survival and breeding. Birds are excellent indicators of ecosystem health, and their presence in your garden is a sign of a healthy and balanced environment.

The most common garden bird species

There are many species of garden birds that can be seen in our gardens. Among the most common are the robin, blue tit, house sparrow and blackbird. Each species has its own distinctive characteristics, both in plumage and behavior.

The robin, for example, is known for its bright red chest and melodious song. The blue tit, on the other hand, is recognizable by its blue head and its small size. The house sparrow, present in many gardens, is easily identifiable thanks to its brown plumage and its medium size. Finally, the common blackbird, with its shiny black plumage and distinctive song, is a regular visitor to the gardens.

Attracting garden birds to your garden

If you want to attract more birds to your garden, there are several simple and effective ways. First, be sure to plant a variety of plants rich in seeds and fruits, which will serve as a food source for birds. Berry shrubs, sunflowers and wildflowers are particularly popular.

Next, install feeders and waterers suitable for garden birds. The feeders can be filled with seeds, fruit or a mixture of seeds specially designed for birds. Be sure to clean them regularly to prevent the spread of disease.

Garden Bird Watching Tips

Backyard bird watching is an exciting and relaxing activity. Here are some tips for beginners:

1. Bring binoculars to better observe the details of the birds.

2. Be patient and discreet, birds can be suspicious.

3. Learn to recognize the songs and behaviors of different species.

4. Record your observations in a notebook to follow the evolution of bird populations in your garden.

The role of feeders and nest boxes in attracting garden birds

Feeders and nesting boxes play a vital role in attracting and nesting garden birds. Feeders provide an additional food source, which can help birds during times of food shortage. Birdhouses, on the other hand, provide safe shelter for nesting and breeding birds.

It is important to choose feeders and nesting boxes suitable for the species of birds you wish to attract. Some species prefer hanging feeders, while others prefer floor feeders. Likewise, nesting boxes should be specific to each species in order to meet their nesting needs.

Create a bird-friendly garden habitat

To create a bird-friendly garden habitat, it is important to consider several things. First, make sure you have a variety of plants that provide both food and shelter for the birds. Trees, shrubs and flowers are essential for attracting a wide variety of species.

Next, avoid using chemical pesticides and herbicides in your garden. These products can be harmful to birds and reduce their population. Instead, opt for natural, eco-friendly gardening methods.

The benefits of observing and studying garden birds

Observing and studying garden birds has many benefits. This helps to better understand their behavior, ecology and role in the ecosystem. Birdwatching can also be a source of relaxation and connection with nature.

By studying the bird populations in your garden, you can contribute to scientific research on biodiversity and the evolution of species. Your sightings may be shared with bird conservation organizations to help with their conservation efforts.

Our Beautiful Poster: Features and Benefits

Our poster is a must-have tool for garden bird lovers. It presents a collection of detailed illustrations of the most common species, with precise descriptions for each bird. The illustrations are beautifully done, showcasing the colors and details of the birds.

The poster is designed to be both aesthetic and informative. It is printed on a premium quality paper, which gives it durability and an exceptional finish. With its generous size, it can be hung on your living room, office or garden wall, so you can enjoy the beauty of garden birds at any time.

Conclusion: The Beauty of Garden Birds

Garden birds are true wonders of nature. Their presence in our gardens brings color, song and life. By attracting garden birds and creating a favorable habitat, we help preserve biodiversity and maintain the balance of the ecosystem.

Our poster offers you the opportunity to dive into the fascinating world of garden birds. Whether you are an ornithology enthusiast or simply curious to discover the beauty of these feathered creatures, our poster will meet your expectations. Hang it in your garden, watch the birds approach and marvel at the splendor of nature.

Don't wait any longer to discover the fascinating world of garden birds with our superb poster. Order it now and let yourself be transported to a universe filled with colors, songs and flying wonders.
Delivery 4-8 days in secure packaging. Each poster purchase contributes to the planting of 10 trees, thanks to your support.
Each poster we offer is designed in an original and exclusive way by our talented artists. You won't find them on any other site.
We are committed to providing you with the highest quality posters , designed with passion and dedication. Every poster you buy from us is created to arouse admiration and satisfaction.
Click to discover our presentation video. Youtube.
Bring style to your walls with my unique
wall posters