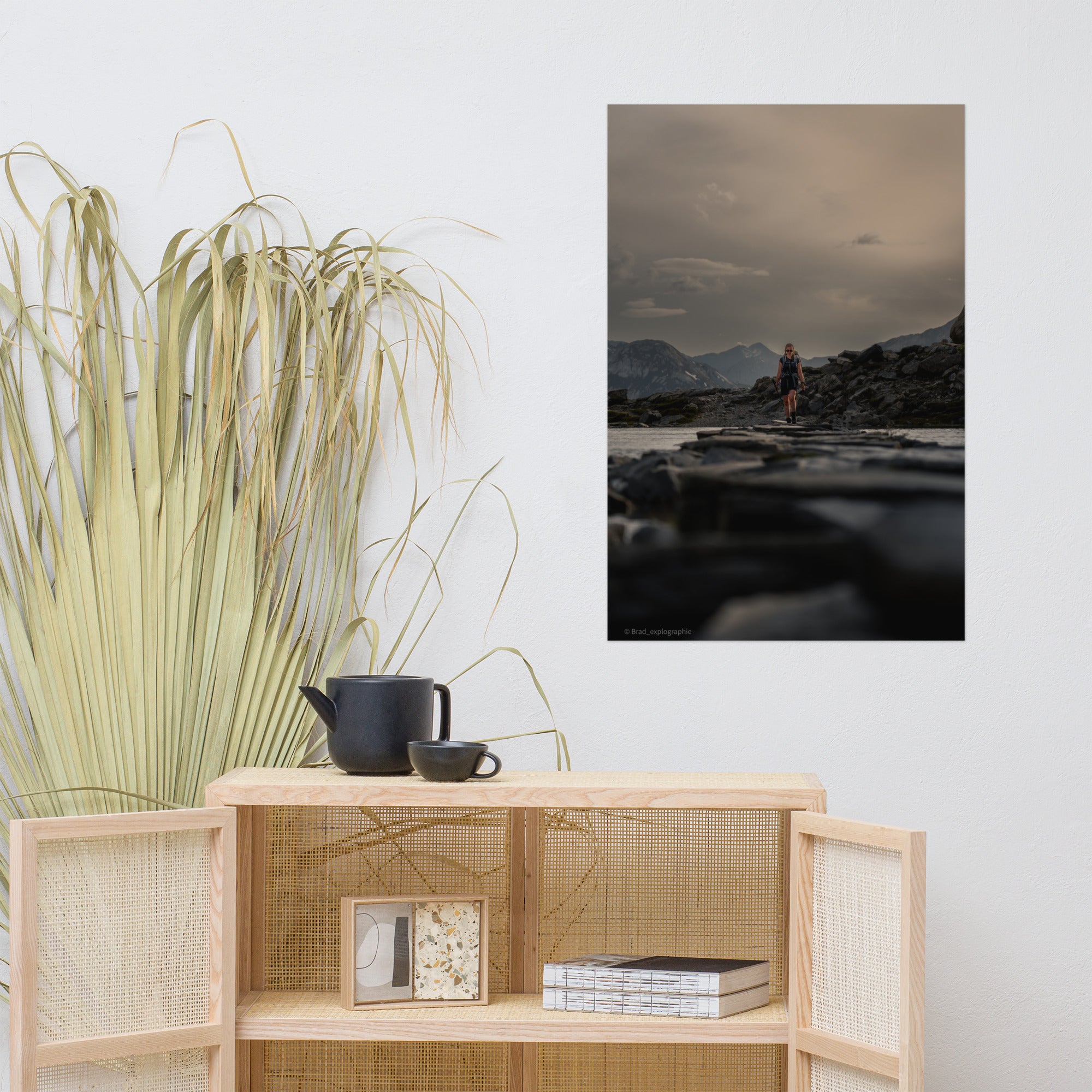 Quand le lac se sépare en 2 - Poster
"Quand le lac se sépare en 2" – Une Odyssée Naturelle en Pleine Randonnée

La Nature comme Maîtresse de Cérémonie

La photographie "Quand le lac se sépare en 2" est plus qu'une simple image – c'est une invitation à l'aventure, une promesse de ce que la nature a de plus majestueux à offrir. Imaginez une randonneuse solitaire, avançant avec détermination, franchissant un lac aux eaux calmes et miroitantes. Le point de vue unique, capturé au ras du sol, permet d'apprécier la grandeur de ce passage naturel formé de pierres plates, semblant guider chaque pas de la randonneuse.

Une Perspective Immersive

Ce qui rend cette photographie exceptionnelle, c'est sa dynamique, sa profondeur et l'interaction avec l'environnement. L'angle choisi met non seulement en valeur la femme et son parcours, mais aussi le cadre grandiose qui l'entoure. Les montagnes lointaines, les formations rocheuses et le reflet de la lumière sur l'eau créent une toile de fond époustouflante, transformant une simple marche en une quête épique.

Apportez de l'Aventure à Votre Espace

Laissez-vous transporter dans un monde où la nature règne en maître, où chaque instant est une découverte. Cette affiche est bien plus qu'un élément décoratif : c'est une fenêtre ouverte sur l'immensité du monde sauvage, un rappel constant de la beauté qui nous entoure. Idéale pour orner votre salon, votre chambre ou votre bureau, elle incite à l'évasion et à la contemplation.

Excellence et Authenticité

Chaque détail, chaque nuance est magnifiquement rendu grâce à une impression de qualité musée sur un papier mat épais. La durabilité est au cœur de notre démarche, garantissant que cette œuvre d'art reste intacte au fil des années. Et pour certifier son originalité, elle est signée par le talentueux photographe français, Brandon Valette, reconnu sous le pseudo Brad_explographie sur les réseaux.

Caractéristiques Techniques Uniques

Épaisseur du papier : Une robustesse inégalée avec 10,3 mil d'épaisseur.

Poids du papier : Un papier d'une densité de 189 g/m² pour garantir une impression de haute qualité.

Opacité : Avec une opacité de 94%, chaque détail ressort avec une clarté exceptionnelle.

Faites de cette pièce un élément central de votre décoration et laissez votre esprit s'évader à chaque regard porté sur elle.
Delivery 4-8 days in secure packaging. Each poster purchase contributes to the planting of 10 trees, thanks to your support.
Each poster we offer is designed in an original and exclusive way by our talented artists. You won't find them on any other site.
We are committed to providing you with the highest quality posters , designed with passion and dedication. Every poster you buy from us is created to arouse admiration and satisfaction.
Click to discover our presentation video. Youtube.
Bring style to your walls with my unique
wall posters